Dear Readers,
As I have mentioned in previous emails – Global From Asia has been a top destination for readers on this trade war and I am studying closely how to adjust our content and direction – today we will share some new developments (at the end of the email)
If you also remember, I have said the media has been contacting the blog like crazy about the trade war and Amazon FBA sellers – have had calls with WSJ, South China Morning Post, and Bloomberg – plus a whole bunch of others.
For those who deal with media, many times you spend a lot of time talking to them and nothing comes from it – well Bloomberg picked a couple sentences from our talk in their latest article, definitely worth a read:  US China Trade War Hits Amazon Merchants.
Here's a screenshot of my quote: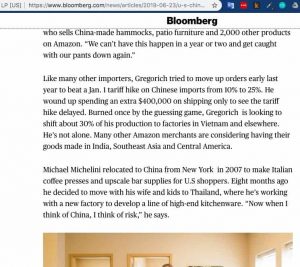 Now, Global From Asia, and my whole life honestly- has been under massive changes the past year. I moved my family to Thailand! We paused the podcast for a few months with a secret project – we started things back up, etc etc. Hong Kong protests also (on this week's podcast)
The world is changing fast.
Global From Asia wants to step things up here in Thailand. I'm getting overwhelmed with people looking to source products outside of China – and I have been meeting more factories, logistics companies, and other solutions here in Thailand as I am buying from here myself now.
So here's the offer – are you currently looking to buy outside of China? Want to see if Thailand is right or has potential?
Let our team here help – we have local Thai people in our team and while there isn't an Alibaba here, it is old school researching and grinding to find a potential factory.
Want to give it a shot? Let us review your case and give you input if Thailand factories is a viable option
Fill Out The Thailand Sourcing Form now.
If you're in the industry – we would love to talk to you about strategic alliances within the Thailand region. A small hint is – Global From Asia is looking to (potentially) setup an operation here, as a logistics center. Been in talks with investors in Bangkok and Southeast Asia is seriously heating up.
Thanks for reading, and we at Global From Asia are adjusting and watching closely as this trade war happens – seems we are in an interesting cross roads.
Cheers,
Mike
P.S.  The main focus for today – Thailand Sourcing Form
---