China is currently breeding pigs that are as big as polar bears. The pigs are currently being bred in a farm in the southern part of China.
These massive pigs will be part of a herd that will be used to breed even more of them.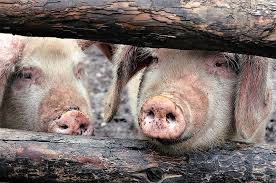 Tibet Pigs in China
Why the Big Pigs?
China is going through a pig crisis. Most of the pigs in China have been afflicted with African swine fever. If pigs are afflicted with this disease, they will eventually get sick and die. 
This is a big problem for China. For one, a majority of the population of China consume pork on a regular basis. The situation became so dire that the Chinese government let out pigs from their emergency reserves. 
There is no known cure or vaccine for African swine fever. It is also quite difficult to separate the current pigs from the herd. Since the disease is extremely infectious, chances are that the herd will contract the disease. 
One of the paths out of this crisis is to breed more pigs, away from the afflicted pigs. 
The Price of Giant Pigs
The giant pig now weighs 500 kg. Breeding massive pigs will allow for more people to benefit from them. People won't have to wait for thousands, and even millions, of pigs to be bred.
When it comes time to sell, the price of one pig can reach up to 10,000 yuan. To put this into perspective, it can cost approximately $2,000. 
This price is interesting, since it is nearly three times the average monthly disposable income of the region where the pigs are being bred. 
This mentality of "bigger is better" is spreading across the country. In other parts of China, farmers are also trying to raise bigger pigs. 
The average weight of pigs is at 125 kg. Farmers are now aiming for their average weight to reach as high as 200 kg. 
This mindset extends farther than farms though. Even the big companies – such as Wens Foodstuff Group and Cofco Meat Holdings, are also aiming to increase the average weight of their pigs. 
Lin Guofa, a senior analyst with the Bric Agricultural Group, says that the change will increase the profits of these companies by up to 30 percent. 
Desperate Times, Consistent Measures
For any people in a crisis, it is good to have a plan in action. However, this is only the start of the struggle.
Hu Chunhua, the Vice Premier of China, said that the supply crisis may well continue until the middle of 2020. 
He goes on to explain the current state of China and how this African swine fever affects it. He indicates that China will have a shortage of 10 million tonnes of pork this year. 
It is a massive blow to their economy. 
The government urges local farms to continue pig production and breeding. 
Despite this urging though, the farmers are still fearful of breeding pigs since the outbreak. They fear that the current pigs they breed may contract the same disease. 
Apart from that, the prices for breeding pigs and sows have skyrocketed. This makes it hard for the farmers to get back on the horse and start breeding pigs again. 
Perhaps breeding lesser pigs that are bigger can help solve this problem. 
---