Dear Readers,
One of the most valuable things about what has been budding here at Global From Asia is the community. The amazing people that have been discovered from the podcasts, blogs, and other nuggets of content via online and offline production.
This week I want to spotlight Bennett Little. A regular reader of the newsletter last year he started to contribute a news column here at Global From Asia titled "Global Gab".
Global Gab was born from his sharing current news and trends to his circle of friends – and our discussion to have him help distribute and share that news to the internet at large.
So thank you Bennett, with the latest post he shared we are up to 14 total articles in this Global Gab series which you can find at GlobalFromAsia.com/news/
Here is his latest one, Global Gab #17 where he shares some recent developments and actions done by China that brought significant impact to its economy.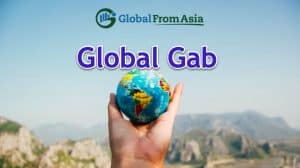 Our editing team, headed by LJ, has really enjoyed working with Bennett and we are open to more collaborations with those who have valuable insights to share with the Global From Asia community. Reply if you'd like to discuss a single guest post or even something as epic as Bennett's Global Gab column.
Have a great rest of your week, and a big hug to Bennett from all of us here at Global From Asia!
Cheers,
Mike
---