Dear Readers,
As some of you have seen, I've been a bit emotional lately.
It is because the busines world as we knew it is being turned upside down.
Global From Asia started in Oct 2013 as a podcast to help online business owners learn about running an international business from Hong Kong. As the podcast intro used to say:
A couple years ago, I asked Alvin my video editor to remove the "from Hong Kong" from that clip….
With the banking crackdown in 2016, the budding corporate services agency we were building here took a nosedive. I just didn't have the heart to sell a service where I couldn't be confident the banking would work out. Later that year, I did a deal with Ray Ng at Unipro corporate services, and moved the corporate services division of Global From Asia into Unipro and became a shareholder in the firm.
Since 2016 I have been searching for the right angle for Global From Asia. Amazon FBA? Events, trips, memberships, courses. Cross Border Summit has been a popular event in the community and it is spinning off to be its own business this year.
So what is Global From Asia?
Currently reading a new book by Pat Flynn "Superfans" and it gave me the idea to ask you – the reader of this newsletter. What do you want from Global From Asia?
I have my assumptions. And have heard from some of you.
But today, I would love to hear what you think it is.
And more than that, what you would like it to be. And what your problems are. What you are trying to achieve in life and business.
Its a quick survey, and I'll report to my wife the findings – as she's the boss and she has been questioning a lot that has been spinning out of the site lately.
Thank you in advance.
Cheers,
Mike
---
Guesting on The Worldly Marketer Podcast:
I was a guest last week in The Worldly Marketer Podcast where we talked about Taking Your Cross-Border E-commerce Business to the Next Level. Head on over here for insights.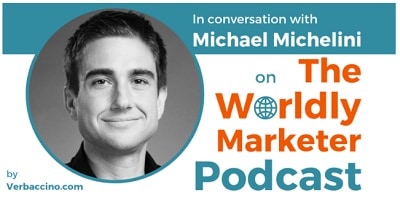 Know the latest from Global From Asia:


CBS Speakers of the week:
For this week, we will be featuring two experts who will be speaking in the Fourth Annual Cross Border Summit on October 22 – 23, 2019 at Guangzhou, China. Will Tjernlund, CMO and Co founder of Goat Consultings and Michael Hartman, Managing Partner of Innoventic. Check out Will's full profile and Michael's full profile.
---