Dear Readers,
We just had a webinar a couple hours ago on the rapid changes in the space due to the Coronavirus and how to adjust, and will have 2 more sessions tomorrow.
It is now or never. Watch as Video here.
The people and their governments around the world have spoken.
They urgently need medical supplies for the pandemic.
But it is mostly made in China.
Where to get this stock? Who to trust? What factory to find. How to send payment, how to ship, where to QC the items.
These are questions we have been hearing in our cross-border business industry since 2006 til now.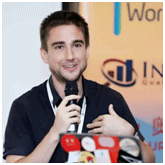 My name is Michael Michelini, and I am the host of Global From Asia, a podcast and blog about Asia cross border business with 300 episodes since 2013. Living in China since 2007, doing e-commerce since 2004.
I'm stuck in a Chinese quarantine – and I have a goal, a project.
We have had a system on the back burner since.
A system that allows people to find factory-direct products they can purchase as a group buy, and in a community and transparent fashion. Codename: Loadpipe.

LET US WORK TOGETHER!
Bundling together the community's wholesale orders, the power of a community can make amazing things happen.
Drive factory prices lower, power in numbers.
Confirm group buy payments and ensure the factory delivers before being paid
Have qualified service providers check all the community's orders at the same time
Have verified shipping agencies with clear tracking and powerful people pushing it through.
If you are looking to:
Get involved in a group buy of vetted COVID19 supplies with the protection you need to feel safe at prices that are negotiated on the group's behalf
A supplier that has inventory or a factory that has capacity
A service provider in the ecosystem that can help with the supply chain.
We want to work with you on making a group buy, factory direct ecosystem to ensure people dealing with this pandemic around the world are getting the stock they need.
Join us on this private beta and journey to getting people the medical supplies they need.
Looking to BUY?
Apply to Join Now in this Loadpipe Private Beta:
Once in, this is how you make a deposit to lock in your order:
Supplier / Service Provider?
Have COVID-19 stock or capacity or services and want to allocate it for this Loadpipe Group Buy?
THANK YOU!
Let's Work together and DO THIS!

Michael Michelini
March 26, 2020
---