Dear Readers,
Hope everyone is prepared for the upcoming CNY (Chinese New Year) – the year of the rat. The last time it was the year of the rat was 2008, which my first Chinese New Year in Mainland China.
Time is flying, and I wish all of you a good rat year – which technically doesn't kick off until Saturday Jan 25, 2020 on the Solar Calendar, but as we all know, China is shut down f or weeks before/after this massive holiday.
This week's newsletter I am still recovering from ash filled air in Manila (yes, arrived just in time for the Volcano to erupt) and want to mention a couple events that friends in our GFA network are doing:
7 Figure Seller Summit

Gary Huang is always making moves! Have spent some time with him in Bangkok recently, and was a pleasure to be on one of his sessions for this year's 7 Figure Seller Summit – an online summit that is opening up shortly. Read all about the 7 Figure Seller Summit here.
Howard Thai's Cabo Mastermind
The Professor of Amazon has been busy, and he shared with me his amazing- jam packed conference speaking schedule for 2020, one being his high level mastermind in Cabo!
If you're interested to go, or learn more – this is for serious and experienced sellers only – tell him Mike at GFA sent ya and get special treatment (and yes, I'll get a thank you gift from him too).
Read about the Cabo Mastermind here: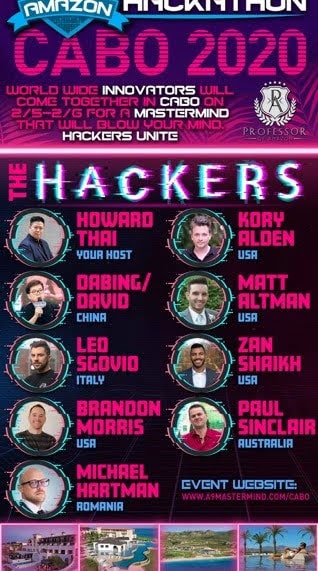 Ecom Island Boracay
Here is Ecommerce Island – they are back and it is in Boracay, Philippines! Just next week, so if you are really ready for a last minute, action packed amazing hands on event with Nick Peroni and Ben Malol, as well as many other experts – this coming Jan 18 – 22, 2020, read the full page offer here.
GFAVIP Member updates
If you missed the member call yesterday, here's a recap.
Save the date for Feb's member call – Wed Feb 19 @ 8pm HK time.
Cheers,
Mike
---