The current global pandemic, COVID-19, caused many event organizers to either cancel or postpone events. The 127th Canton Fair was not spared of this necessary move of postponement. The initial schedule of mid-April did not push through.
In early April, however, the Canton Fair organizers announced that the 127th Canton Fair will now be held online from June 15 to 24, 2020. The suppliers are invited to display their products online in a platform that will provide 24-hour services for promotion, partnering and negotiation.
In an effort to help foreign trade companies to build new markets and rise above the impact of the COVID-19 global pandemic, the Ministry of Commerce has decided not to charge companies exhibiting fees for the online holding of the 127th Canton Fair. No fees will be charged either for cross border e-commerce platforms that will be participating in simultaneous activities.
Here is their announcement on the waiving of exhibiting fees in both Chinese and English: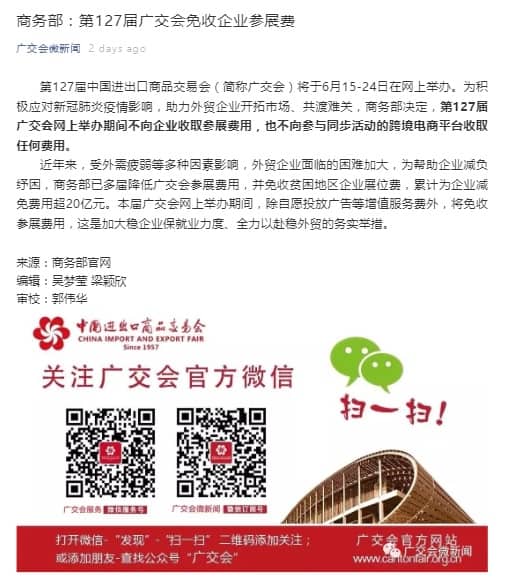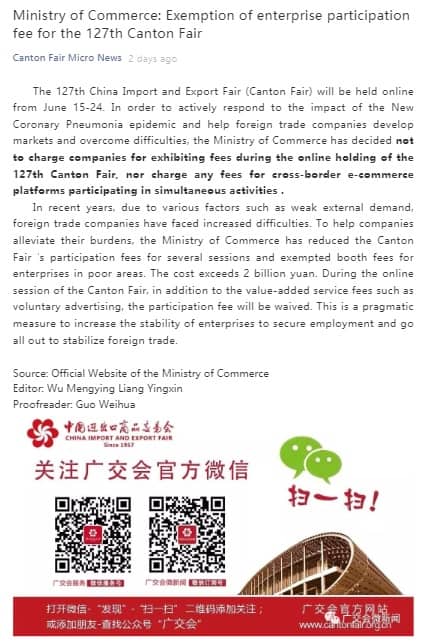 This is seen as a pragmatic approach to help increase the stability of businesses, to secure employment and stabilize international trade. In their announcement they said that during the online session of the 127th Canton Fair, "in addition to the value-added service fees such as voluntary advertising, the participation fee will be waived."
This similar action was done in recent years to help companies face various challenges such as weak external demand. Participation fees were reduced in several sessions and booth fees for exhibitors from poor areas were waived.
---