Dear readers,
For the past month the team here at Global From Asia has been getting quite a bit of inbound messages about how the trader and Amazon seller community has been responding to the US/Trade War situation.
Literally I have talked on the phone to journalists from Wall Street Journal, Bloomberg, and South China Morning Post about this.
While we have been discussing this with people in our network, an idea came to mind – let's open up a survey and hear what people are thinking and planning.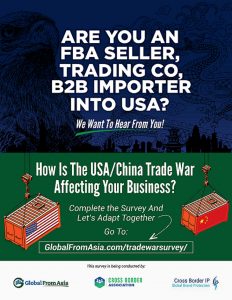 Feel this US/China trade war is exactly revolving around the core of Global From Asia, and we want to be on the top of the pulse.
In the survey, you will give us a brief idea of what your business type is, and then we ask some questions like:
What will you do with these increased tariffs?
1) Increase prices
2) Push the factory to give me a lower price
3) Buy from factories outside of China
4) Close my business
Now point 4 is a bit drastic, but there have been discussions like that. Many are a bit frustrated with already increased competition and the general struggles – will the tariffs be the straw that broke the camel's back?
Also this week's podcast we have Kornilia from Forest Shipping, a GFA partner, discussing how their logistics company is dealing with the incoming questions from clients (China and International sellers) with some interesting insights. Check out the podcast here.
If you can also share this survey to those who would also be relevant, that is much appreciated. We will be taking the data and making a report of our findings.
Cheers,
Mike
---