UPDATE(May 10, 2020): The Ministry of Commerce had a recent announcement regarding exhibiting fees during the online Canton Fair to be held on June 15 to 24, 2020. In its announcement it clearly stated that Participation Fee Is Waived For The Online 127th Canton Fair. We will bring you more updates as they come.
UPDATE(April 24, 2020): In a regular online press conference on April 23, 2020, of the Ministry of Commerce of PRC, deputy director Gao Feng addressed the questions and concerns raised by reporters. Concerns are mainly on how the preparation for the Canton Fair Online is going and how they are doing in the promotion of considerations.
Also asked in the press conference are the changes to be expected and why the Canton Fair still be held within a limited time. Gao Feng replied that they have started the investment promotion and it is progressing smoothly. Over 400,000 overseas buyers have been sent invitations. He added that invitations are also sent through the important international business organizations and multi-national companies. They are striving to get more participants now that limiting factors such as time and travel costs are eliminated. Domestic buyers are also being actively invited.
More notable services are being pushed in the Online Canton Fair:
online matching
provide honest background information for parties to the transaction
replicate the mutually trusted trade negotiation environment on the physical exhibition
multilingual translation support for the docking platform
all-weather online live broadcast room for each exhibitor
We will post updates as they come for your timely information.
---
UPDATE(April 17, 2020): Ministry of Commerce of PRC is calling for the cooperation and active participation of overseas buyers, exhibitors and other related parties involved to the 127th Canton Fair. This will be held online from June 15 to 24, 2020.
The China Foreign Trade Centre, Canton Fair's organizer, committed to "…improve our technological application and supporting services to enhance the online experience of all enterprises and traders… and strive to hold an especially wonderful "online Canton Fair" with special significance through special measures in this unprecedented time."
Check this announcement: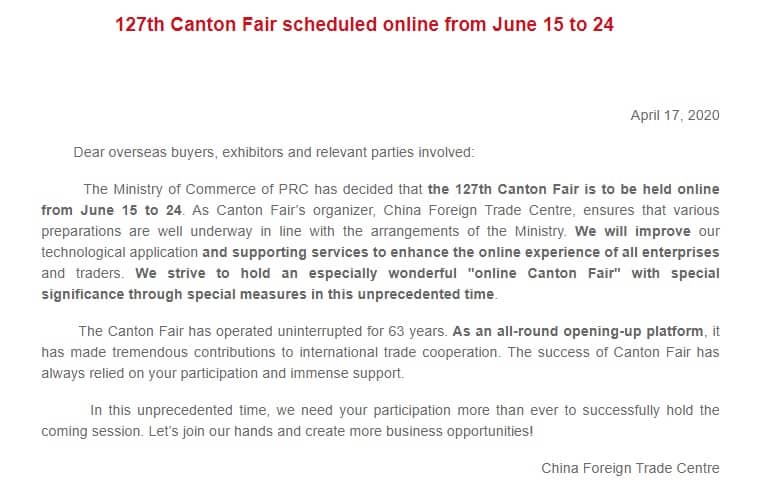 ---
UPDATE(April 8, 2020): Chinese Premier Li Keqiang hosted a State Council executive meeting on April 7, 2020 where it was announced that the Canton Fair will be held online. It is slated on mid to late June. This is still mainly due to the global pandemic, novel coronavirus. Part of their announcement states, "Suppliers from home and abroad are invited to display their products online. The platform will also provide 24-hour services for promotion, partnering and negotiation."
Check these notices:
UPDATE(March 25, 2020): The Provincial Commerce Department announced that the Canton Fair shall not start on the scheduled date of April 15, 2020. This is contrary to an earlier announcement that preparations were already being carried out for the opening. The reason for the postponement is still the ongoing global pandemic, novel coronavirus. While they say that it is only a postponement, the entrepreneurs deem the event as cancelled.
UPDATE (March 6, 2020): The Ministry of Commerce in its Online Policy Briefing on Keeping Foreign Trade and Investment Stable and Boosting Consumption, held on February 21, 2020, announced that the Canton Fair 2020 preparations are being carried out steadily as planned. This is contrary to announcements made in early February through their official WeChat News and media ads of the suspension of all exhibition activities. These announcements has now been taken down. The first phase of activities are said to start mid-April. This remains to be seen as more and more trade shows and events are being cancelled in light of the coronavirus scare. An event of similar scale, Global Sources 2020 Spring Show Series recently announced its cancellation.
The Original Announcement Suspending All Exhibition Activities
It was recently announced that the Canton Fair 2020 and all its exhibition activities shall be suspended. This is in light with the infection prevention and control efforts of China.
This is their official announcement: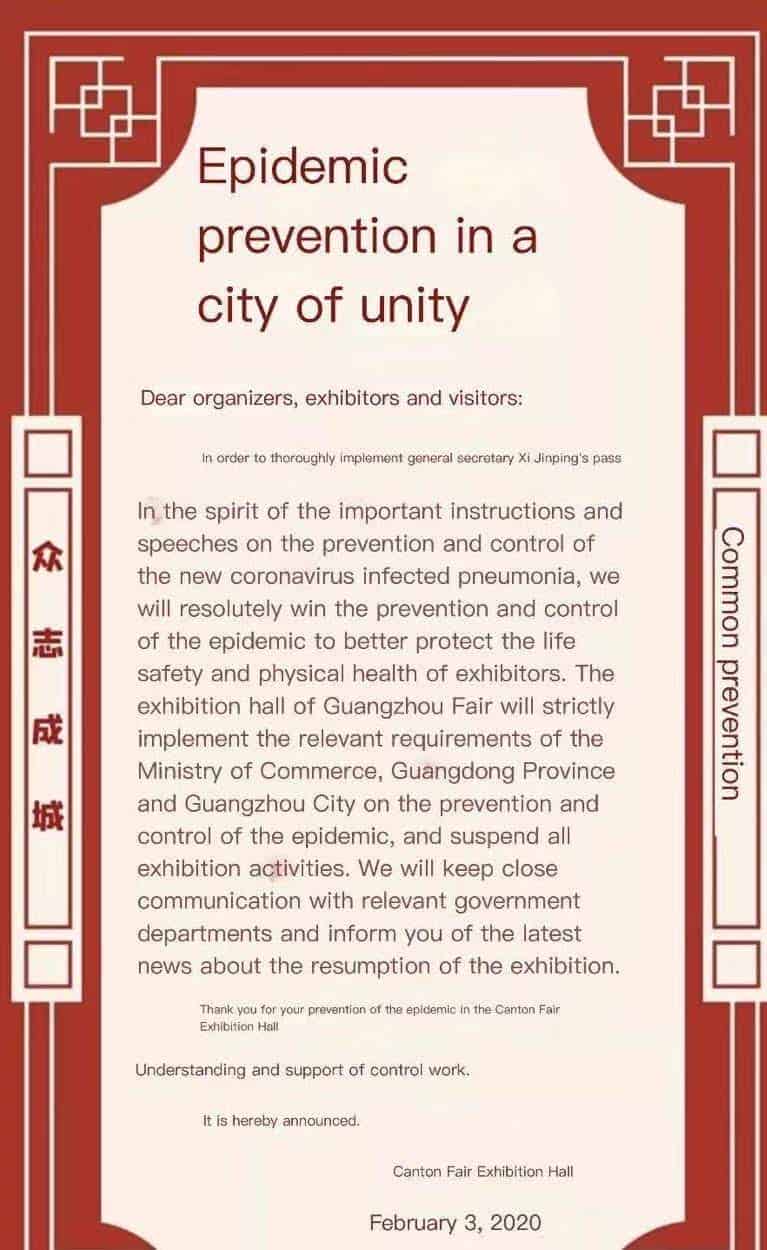 "In the spirit of the important instructions and speeches on the prevention and control of the new coronavirus infected pneumonia, we will resolutely win the prevention and control of the epidemic to better protect the life safety and physical health of exhibitors. The exhibition hall of Guangzhou Fair will strictly implement the relevant requirements of the Ministry of Commerce, Guangdong Province and Guangzhou City on the prevention and control of the epidemic, and suspend all exhibition activities. We will keep close communication with relevant government departments and inform you of the latest news about the resumption of the exhibition."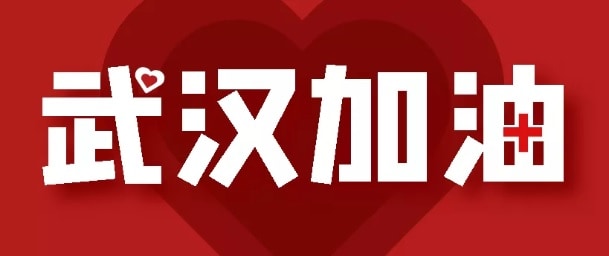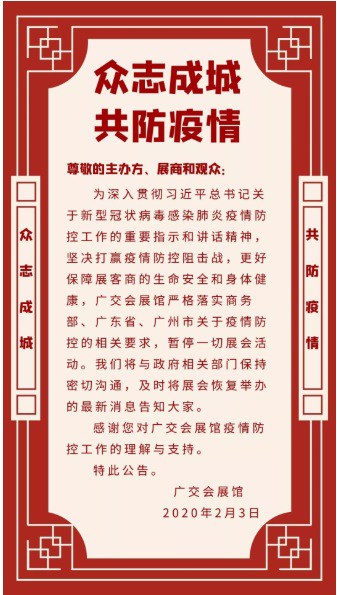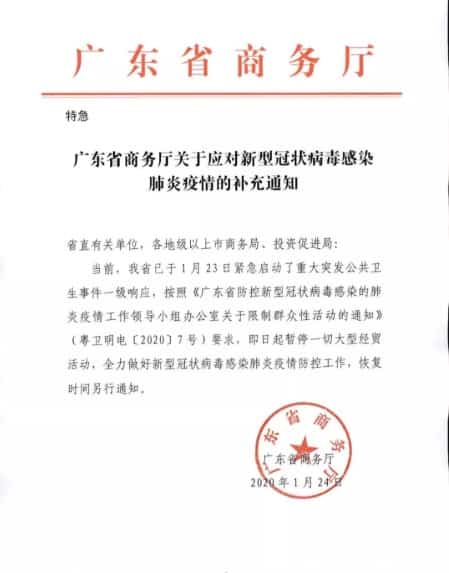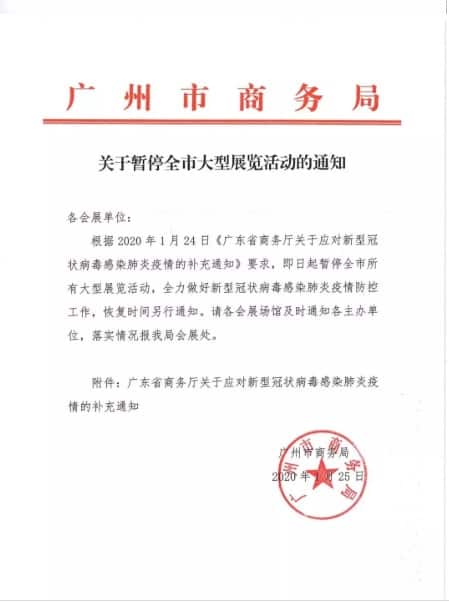 True to the announcement headline, Epidemic Prevention in a City of Unity, it is during these times that we stand as one.
---